Kagocel Becomes Official Sponsor of the ISU European Figure Skating Championships® 2019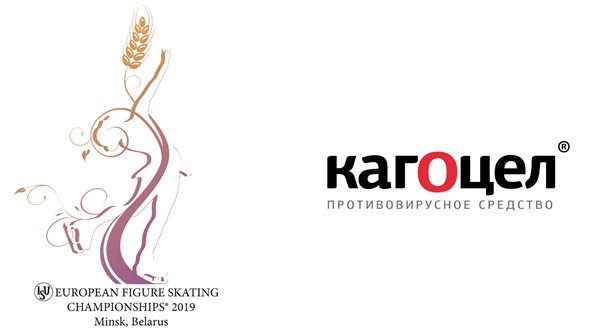 The ISU European Figure Skating Championships® 2019 will be hosted by the Republic of Belarus; one of the largest sports competitions will be held in Minsk on January 21-27. The antiviral drug Kagocel will be the official sponsor of the Championships.
This is not the first time that Nearmedic sponsors such an event. In 2018, the company manufacturing the drug supported the ISU European Figure Skating Championships® 2018 in Moscow and the ISU World Figure Skating Championships® in Milan. Sports is an important component of a responsible attitude to one's health and lifestyle, with Kagocel having also become part of it. In 15 years of presence in the pharmaceutical market, the drug has been recognized by both consumers and professionals, being an indispensable tool in the struggle against influenza and SARS. The presence of this antiviral agent in one's first-aid kit will not allow chills to hinder sports achievements.
Many experts, judging by the success of the previous Championships, already predict a significant advantage of the Russian team at the Minsk competition. Skaters will compete in four major disciplines: men's singles, women's singles, pair skating and ice dancing. The antiviral drug Kagocel, on its part, will provide support to athletes and protect them against influenza and SARS, mitigating the threat on the way to victory; while the skills of our skaters give their fans absolute confidence in success!
Good luck and brilliant performance!
Kagocel is an original antiviral drug developed by Russian scientists for the treatment and prevention of influenza and SARS for adults and children from the age of three. According to practitioners, Kagocel, within the framework of the Russian Pharma Awards-2017, is the most prescribed drug in the treatment of SARS and influenza. Kagocel was No. 1 in the rating of DSM Group in 2017 in the antiviral group; it was also recognized as No. 1 drug among the entire OTC segment according to the National Pharmaceutical Rating - 2017.
The ISU European Figure Skating Championships® 2019 is the 111th competition of this kind among European skaters. The competition is held under the auspices of the International Skating Union (ISU).
19.07.2018 11:39:00
← Back to the list