Kagocel's Project "When Your Girl Has Fallen Ill" Granted Bronze at the White Square Festival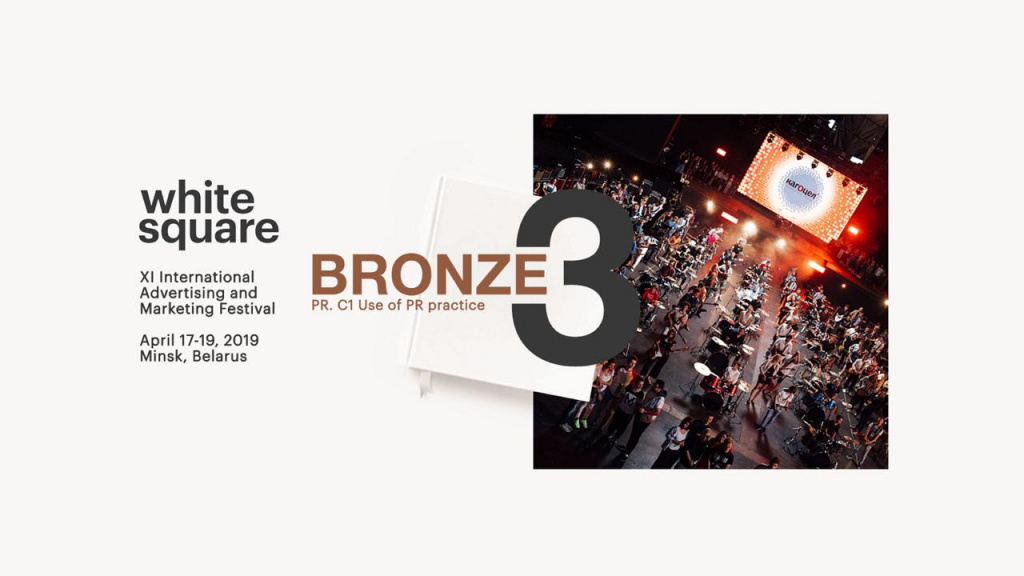 The project "When your girlfriend has fallen ill" received a bronze award in the PR category at the White Square, the largest creative arts festival in Central and Eastern Europe. The awarding ceremony was held on April 19 in Minsk (Republic of Belarus). All in all, 1019 projects from the CIS and Europian countries had been submitted for participation in the contests. This year the festival, which has been held for 11 years now, brought together representatives from 32 countries.
Projects competed in 7 contest categories: creativity, branding, marketing, creative effectiveness, digital, social ad, and media. All projects were evaluated by 6 international juries (a total of 62 highly qualified experts). Kagocel's video received bronze in the PR nomination, in the category "Marketing".
The project "When your girlfriend has fallen ill" resulted in a stunning flash mob with the participation of 366 musicians, including the living legend Yuri Kasparyan. And it all started with a young man's girlfriend having caught cold, and him deciding to cheer her up with an unusual surprise. The antiviral brand Kagocel supported this idea, and in the end, it turned out to be perhaps the most ambitious cover version of one of Victor Tzoi's hits. The video had collected more than 8 million viewings on the brand's Youtube channel. In addition, a service for the delivery of musical presents from Kagocel had been launched: having purchased the drug, the customer could place an application to tell his love story. The winners received a gift of a musical surprise for their better half.
Kagocel has been the leader in its segment for 6 years in a row. The brand is a multiple winner of the Russian Pharma Awards, Green Cross, and Product of the Year awards. It is known and appreciated by consumers, highly valued and respected by professionals. The reasons for it are the drug's safety and effectiveness and, of course, interesting projects that allow one to talk to consumers in the same language while telling them about the key properties of the product in a non-trivial and exciting way.
22.04.2019 12:23:00
← Back to the list